Can a kesdari Sikh man excel at high levels of athletic competition in the U.S. and practice his faith? Just ask Darsh Singh, junior starter and co-captain of Trinity University's basketball team: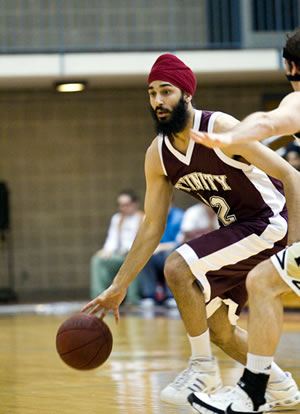 This season, fans haven't had to chant for Darsh – the team co-captain has appeared in every game, and every time he plays, he makes a statement. As a follower of the Sikh religion, Darsh speaks volumes by wearing a turban and allowing his beard to grow. In fact, it's believed that he is the only turbaned Sikh to play in an NCAA basketball game.
Maybe you weren't as impressed as I was by his exploits as a jock. Not to worry, beta is an active engineering student, making honors every year and working in a number of student organizations.
He is an engineering science major who is affiliated with the Institute of Electrical and Electronics Engineers, and who has been on the SCAC Honor Roll (minimum qualification of 3.20 GPA) for three of his four years at Trinity… He is not only a basketball player for the Tigers, but he is also a resident mentor and an active member of TUVAC. He serves on the Student-Athlete Advisory Council, is a part of Students Taking Action Now: Darfur and Save Darfur, and he is president of the Students Creating Awareness of the Sikh Faith. He has volunteered in various Sikh organizations…
I have to say, this story made me smile. I don't know Darsh personally, but I know my 5- and 7-year old cousins (football and basketball enthusiasts that they are) will be excited to know that someone who looks like they do has been successful without compromising his commitment to his faith.