Posted by Maple Leaf Sikh in
Activism
,
General
,
Human Rights
,
India
,
Law
,
Punjab
on 02 15th, 2009 |
27 responses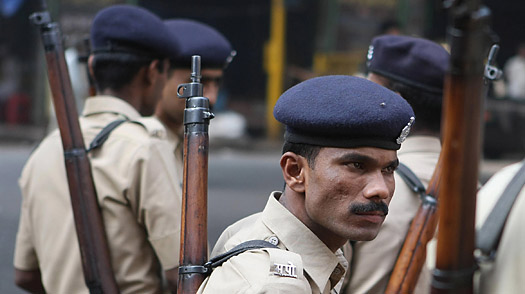 We recently posted on Ensaaf's new report that studies the all too common practice of extra-judicial killings (usually referred to as 'encounters') and the mass cremations that followed by the Punjab police forces during the 1980s and 1990s. Well it looks like these practices were not limited to Punjab and these serious human rights violations are finally hitting the mainstream media.
This week, Time magazine writes about "Rights Groups Probe India's Shoot-Out Cops":
Scarcely a day passes in India by without news of an encounter between the police and criminals elements — "encounter" being the local jargon for shootouts involving the police, who are allowed to fire only in self-defense. On Wednesday, it was a "dreaded mafia don" who was gunned down by the Uttar Pradesh police — shot dead, and therefore unable to challenge the police account of the circumstances of the shooting. But some in India have begun to question the frequency of such "encounters".
It seems that techniques perfected in Punjab have now been exported across India.
"Encounter" has been a dirty word in India for decades, especially since the Punjab insurgency of the 1980s and 1990s. Not only did an encounter allow the security forces to bypass the often slow and unreliable criminal justice system, it also brought promotions and gallantry awards. Human rights activists have for years protested the growing incidence of encounters, some of them allegedly staged. "Encounters have become the norm," says Vrinda Grover, lawyer and human rights activist. "They have become the police's preferred method to deal with not just terrorists, but criminals of all kinds." Legends of "encounter specialist" cops abound, and one of them was even the subject of the Bollywood film Ab Tak Chhappan ("So far 56", implying the number of people he had killed).

Activists allege that in numerous instances, evidence has been planted after a shooting in order to justify police claims that officers had acted in self defense. Encounters are meant to be probed by a magistrate following a post-mortem, but critics point out that the investigative work in such probes is undertaken by the police themselves. They also allege that such tactics enjoy tacit approval from the authorities in areas plagued by insurgencies. In 2003, a National Human Rights Commission proposal on new norms on encounters suggested that investigation on behalf of a magisterial probe be handled by a different police station from the one where the officers involved are based, but its recommendations have yet been adopted.
However, as KPS Gill and other student's of the "shoot-first" school of thought contend, these practices continue to be justified on the basis of doing what it takes to protect public interests and security.
The growing incidence of encounters is viewed by some analysts as a symptom of police disenchantment with the justice system. "The system is so defective and the criminal justice machinery so lethargic that it takes years to bring the guilty to book," explains G.P. Joshi, a former police officer now a consultant with the Commonwealth Human Rights Commission. "But crime continues to increase, and statistics show that conviction rates are down. This tendency promotes vigilantism in the public and the police. And the state also comes out in support, in consonance with public reaction."
Thankfully, this BS is facing increased public criticism.
Public reaction is far from uniformly supportive of tough police tactics, however. A recent encounter in New Delhi's Jamia Nagar district sparked a protest from members of the Muslim community, who claimed that the police had presented no evidence to back their claim that the two Muslim men killed in the action had been linked with bombing in the capital. "It is no wonder that the minority community feels victimized," says Joshi. "Even within the police, there is a divide which shows up in their dealing of communal problems. Numerous inquiry commissions have noted that prejudice exists among the police."
While it has taken far too long for Punjab's counterinsurgency victims, only good things can come from increased scrutiny and attention being paid to police practices.