Is it just me or are we seeing Giddha increasing in popularity these days?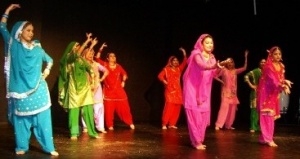 Giddha was the folk dance of choice for our Grandmothers and Mothers. It allowed them a platform to get together with other women, and through boliyan talk openly about their daily lives. I asked my Mum if this was a form of therapy for them, and she said "yes". It was a release for these women to be able to have this time for themselves and openly release supressed feelings in a joyful manner.
We see a great number of young women in Universities joining the "Bhangra" team and peforming these rather masculine dances at Bhangra competitions. Where is our traditional Giddha? I found this video which shows a performance by the UC Davis Giddha Squad at a competition this year. It was nice to see that these girls decided to create some uniqueness to the monotony these Bhangra competitions have began to display. Hopefully this will be a continuing trend and we will see more incorporations of Giddha for women at University levels. There is a sense of elegance and femininity that Giddha has, and which Bhangra lacks for women.
I look forward to the day when young girls are able to immerse themselves in Giddha and learn Boliyan and truly appreciate what our culture has to offer. Maybe we will see a Giddha Academy some day? I am hopeful.
With Teeyan season upon us, we can take the first step in going and attending these events in our areas. In the California we have these events scheduled annually and it's become larger every year. Please make sure to attend if you know of Teeyan happening in your area. It would be a great way to take your Grandmothers, Mothers, Aunts, Sisters, Daughters, and Friends out to spend an afternoon together. (And it's a great workout!)
How do you all feel about this subject? How can we begin to make a progressive change towards incorporating Giddha into the lives of younger women?