A true Sikh hero, Fauja Singh, turned 99 last Thursday.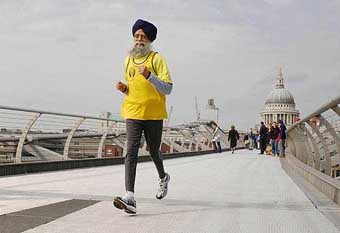 Turbaned Tornado, Fauja Singh turns 99 on Thursday. Here's wishing this Punjabi icon who manages running marathons at an age not many reach, many happy returns of the day.  Besides other gifts that he'd be receiving on his birthday on April 1, this real life 'Forest Gump' is all set to give himself a present — by setting yet another marathon record at the ripe age of 99. "I can only sleep, run or walk. I'll die the day I sit down," the young nonagenarian had told this scribe in an interview in 2005 on the streets of Ilford, Essex, UK, where he has been living along with his son Sukhjinder Singh since the 1980s. He shifted to UK after having lost his wife and younger son in quick succession in Punjab.  [TOI]
The prestigious New York Marathon has offered to give him $100,000 if he runs it at the age of 100.  His trainer says if he were to do it, he would give the entire award to charity.
"One option is to run one at the age of 100. The New York City marathon have offered him $100,000 to do that, and of course he'd give all of that to charity.  "He hasn't kept a penny he's made from running. Even the money he earned from appearing in an Adidas advert with David Beckham a few years ago he gave to Bliss, which was the first charity he ran the London Marathon for in 2000.  [Guardian]
The next record he's set his mind on is to be the oldest marathon runner ever.  May there be many more Fauja Singhs.
When asked what his next aim is in the sport, Fauja said: "I won't stop running until I die. The next target, God willing, is to become the oldest marathon runner ever." [Guardian]