Here at TLH we've have lengthy discussions about the potential commodification of religious symbols and also about problematic media representation of groups of people.  So, I thought that the recent hoopla over the questionable photo shoot in the August issue of Vogue India would be a colorful addition to those discussions.  The New York Times reported that,
Vogue India's August issue presented a 16-page vision of supple handbags, bejeweled clutches and status-symbol umbrellas, modeled not by runway stars or the wealthiest fraction of Indian society who can actually afford these accessories, but by average Indian people. [link]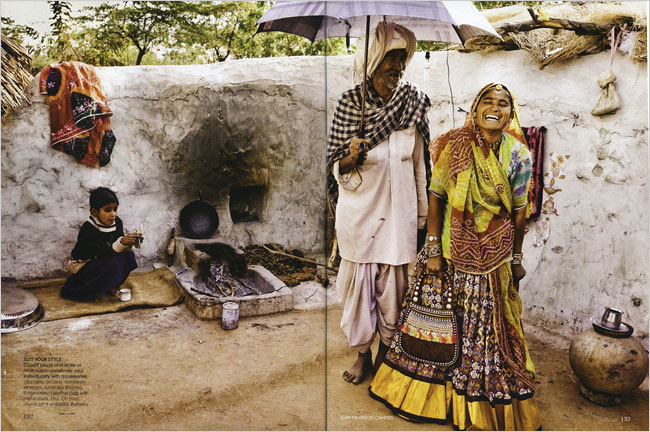 In one picture, a older poor woman holds a small child wearing a Fendi bib (cost = $100), in another pose a family preparing for their daily commute, sits on a motorbike with the mother riding the traditional sidesaddle way… oh and with her Hermès Birkin bag (cost = $10,000) on her wrist.  Then of course, there is the turbaned man who models a Burberry umbrella (cost = $200).  The photo spread itself is definitely striking.  However, knowing that many Indians live on less than a dollar a day is even more striking when put in context with these exorbitant goods.  The debate has raised questions from both sides of the table.  Those that believe the photo shoot was distateful and that it exploits the poor by using them as props.  Then there are others who believe this juxtaposition of wealth against poverty is a reality in India and exactly what people need to see. 
The views of Vogue's critics are best summed up by Pavan K. Varma, a former diplomat and author of 'The Great Indian Middle Class',
There's nothing "fun or funny" about putting a poor person in a mud hut in clothing designed by Alexander McQueen, she said in a telephone interview. "There are farmer suicides here, for God's sake" she said, referring to thousands of Indian farmers who have killed themselves in the last decade because of debt.
And in defense, the editor of Vogue India, Priya Tanna, responds,
"Lighten up," she said in a telephone interview. Vogue is about realizing the "power of fashion" she said, and the shoot was saying that "fashion is no longer a rich man's privilege. Anyone can carry it off and make it look beautiful," she said. "You have to remember with fashion, you can't take it that seriously," Ms. Tanna said. "We weren't trying to make a political statement or save the world," she said.
Oh well now that I know that Vogue doesn't care to worry itself with saving the world (it's very unfashionable you know), I can sleep better.  So is this a much a do about nothing or are people rightfully enraged?  Many luxury companies don't take the time to think about impoverished populations living out of sight.  In this photo shoot, for example, Vogue doesn't even bother to identify the subjects – the brands are named in the captions and simply state if they are worn by a "lady" or a "man."