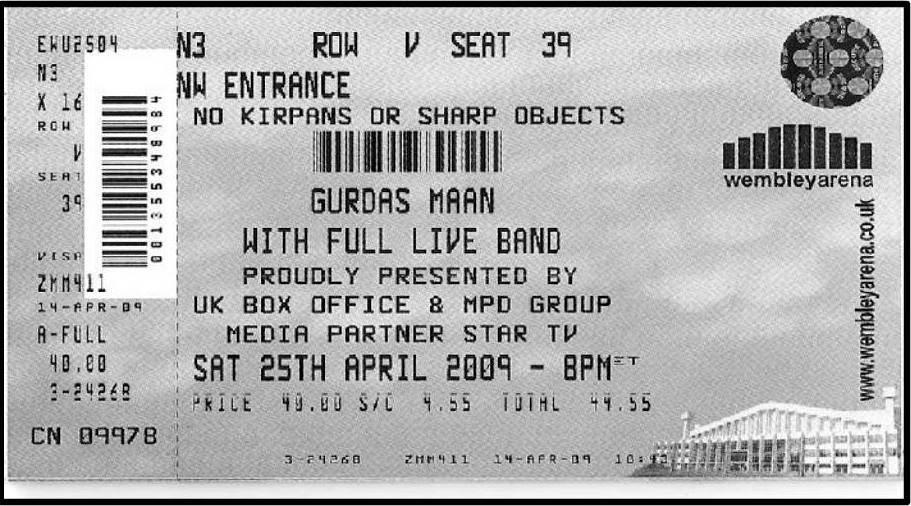 Vaisakhi in the diaspora usually brings two things to those living in cities with large Sikh communities: Nagar Kirtans and Vaisakhi concerts. Unfortunately, if you were an Amritdhari Sikh in London this year and you wanted to partake in both, you would have been out of luck. Tickets for the recent Gurdas Maan concert held at Wembley Arena had a unique warning printed on them, "NO KIRPANS OR SHARP OBJECTS".
I won't dwell too much on the irony of banning kirpans at a Vaisakhi concert, which usually start with the requisite dharmak songs, like Gurdas Maan's tribute to Guru Gobind Singh and his contributions to Sikhi.
What I wonder is exactly what the organizers must have been thinking in doing this. I suspect the banning of kirpans probably falls under generic security rules banning knives and other weapons. In fact the terms and conditions on their website state that the "possession of any article, which is or may be used as a weapon or missile" is strictly prohibited. Pretty standard fare at all large venues.
However, what kind of discussions took place between the venue and the organizers that resulted in the warning being printed on the ticket? Did the venue demand the label or did the organizers do it proactively to avoid problems with security? Did the organizers try to get an exemption for the kirpan or did they just capitulate to the venue's demands? Where there other alternative venues that could have been used to host the event instead of Wembley Arena? And worst of all, did the organizers (likely Sikh and / or Punjabi) just not care if they knowingly discriminated against potential attendees?
You can read more about the tickets (in Gurmukhi) at Punjabi Daily. If you were at the concert or knew about what happened to precipitate the warning, please share with us on TLH.