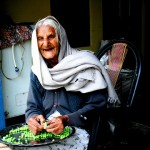 Often times the elderly are considered "high-cost" because they take money out of American system.  They are  seen as a "liability" because they withdraw medicare and social security benefits. Foriegn elders are similarly viewed as a group that "takes" through government benefits, but is not expected to serve the American system for very long.
However, in a recent study at the Center for Intergenerational Learning at Temple University, scholars found that "older immigrants are not inert drains in the U.S. system but an invisible force of community contributors in the United States".
The study found that immigrant elders contribute to community cohesion by playing leadership roles in families.  Also, their sense of interconnectness, rooted in religious and cultural values, forces them to look out for the collective good.  They are also a good source for motivating the younger generation to support community members.
In many immigrant Punjabi Sikh households it is common practice for grandparents to live with the family and provide care for their grandchildren.  In working families, this care is particularly cost-effective and a way to transmit religious and cultural values to children;  especially when both parents are working long hours.  Many 1.5 and 2nd generation Punjabi Sikhs credit their grandparents for helping them maintain their Punjabi skills and socializing them with religious and cultural values through Sakhis and stories from the pind.
The Temple University study projects that by 2050, the older ethnic population will double in the US and account for more than 35 % of the elderly population in the United States.  Considering this statistic and  a trend among Punjabi Sikhs to live in nuclear families; do you think Punjabi Sikh elders will continue to provide familial cohesion?
Also, any ideas on how we can create intergenerational programs & activities in our Gurdwaras that would bring together the elderly population and younger generation?  Although, the elderly are a good source of motivation for the youth and enjoy reconnecting others to religious and cultural traditions; I don't see any programs at local Gurdwaras that bring these two groups together in a mentoring/learning environment.   Any suggestions?