Public intellectual Patwant Singh observed that Sikh immigrants have "not only prospered in business, industry, and the professions; they are also beginning to participate in the political life" of their adopted homelands.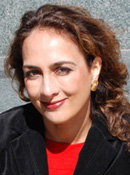 Case in point — Harmeet Kaur Dhillon is currently seeking a seat in the California State Assembly (from the 13th district no less, which covers several prominent San Francisco neighborhoods).
Harmeet's web site indicates that she has exceptional academic credentials, extensive experience as an attorney, and has been at the forefront of important social issues, especially and including domestic violence in the South Asian community.
Of course, I mention Harmeet's candidacy here not because of her C.V. or platform, but, let's face it, because she's a Sikh.  That said, while having more Sikhs in elected public office is important, it does not follow that a Sikh should be supported simply because he or she is Sikh.
When Bobby Jindal ran in Louisiana, several local South Asian leaders invited me to a Jindal fundraiser hosted by area South Asians.  I declined the invitation.  Yes, a brown face on C-SPAN and at the decision table sounds great in the abstract, for both substantive and symbolic purposes.  Jindal's positions, however, were not one's that I particularly subscribed to.
Specifically, to me, in the wake of 9/11, the targeting of Muslims, South Asians, Sikhs, and others was one of the most pressing issues in the political landscape.  It was my understanding, though, that Jindal agreed with aggressive national security measures that did not take into full account the consequences of these measures on the civil rights and liberties of Muslims and those perceived to be Muslim. Indeed, Jindal spoke out in favor of the REAL-ID Act and making permanent the PATRIOT Act.
My 'South Asians for Jindal' friends tried to remind me that Louisiana is a relatively conservative state.  Whoever comes out of that area, they implored, would support the administration's post-9/11 security legislation even if the proposed laws did not contain adequate assurances that racial or religious profiling would not occur.  So what's the difference, they said?
My response was that it was one thing for a non-South Asian to expressly advance profiling or or implicitly tolerate it, and quite another for a South Asian to say, 'I support these laws even though I know members of my community may be discriminatorily impacted by them.'  Non-South Asian politicians and members of the media could then say, 'well if there was a concern regarding discrimination, surely it would have been raised by a representative of those affected or factored into his or her ultimate decision to support the legislation.'  In other words, Jindal was to post-9/11 civil rights and liberties as Supreme Court Justice Clarence Thomas was to race-conscious admissions.
Harmeet's candidacy should stand (or fall) on the strength of her experience and the merits of her positions, and not simply determined on the basis of a shared religion.  With respect to  those positions, personally I am pleased with her unequivocal statement that:
The government shall not single out members of particular religious groups for added surveillance or search absent some independent indicia of individual wrongdoing, as such practices are irrational and discriminatory and make our country less safe.
Harmeet doesn't just believe in equal treatment in these perilous times — Harmeet has also provided pro bono service to Sikh organizations in their defense of Sikh post-9/11 victims of discrimination.  For at least those two reasons, I hope her candidacy is a success.
I invite you to learn more about Harmeet and to ascertain whether — based on your hierarchy of political needs and views — she deserves your support and the opportunity to be a Sikh member of the California State Assembly.