We have had a lot of discussion about the Sikh identity here on TLH, so it is no surprise that when I saw this movie poster I immediately wanted to bring it to your attention.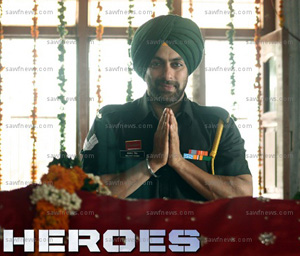 Bollywood is doing it again – another movie with Sikhs. But instead of what we have seen in the past with Sikhs often portrayed as unflattering villains and goofballs, it seems that the trend now is to cast people in Sikhs roles where the Sikhs are the heroes. I suppose it is partly in that spirit that the movie is called "Heroes."
Heroes is about two friends who journey through India meeting everyday heroes, at least one of whom is a Sikh. But that is not the part that interested me of course. The interesting part is not the story line, but all of the press that Salman Khan (the actor who plays a Sikh hero) has gotten for his attempt to play a real Sikh.
Salman Khan [is] seen in a Sikh makeover for the first time ever and he makes a good looking jatt Sikh with a beautifully tied turban. He grew his beard for three weeks before the filming for an authentic bearded Sikh look. Source.
I think this is probably the first time that I have heard this happening. Although, I think actor Sunny Deol may have grown his own beard for a couple of his roles as a Sikh – it has never been so explicitly commended or publicized. I'm not sure how I come down on this, but all the press does point to a deliberate effort by Bollywood to NOT-offend Sikhs, which I think is a positive move on the film industries part.
Further:
[T]o keep the authenticity of the character he grew his beard and followed some important elements of that religion. Well what surprised us most that a chain smoker like Salman decided to refrain from smoking whenever he was in his Sikh getup.

It is believed that Salman didn't smoke during the shoot of his film. What made him do that? We asked Vikas Kapoor manager of Salman Khan who is also the producer of Heroes. He replied, "Salman respects all religion and follows them religiously. He knew that Sikhs generally don't smoke as they are prohibited by their religion. Thus taking that into consideration Salman decided not to smoke during the shoot of this film."

He also informs that though he is a chain smoker, he never smoked when he was in his turban get up. "I remember sometimes he used to spend 10 hours in the same get up but didn't smoke at all. Salman did it out of respect for the Sikh religion. Apart from his attire, Salman also grew his beard to make his get up look real. His respect for the turban made him stay away from cigarettes." says Vikas.  Source.
I respect Salman Khan for his attempt to respect Sikhs and I think it seems genuine that he is trying to be a good "keeper of the Sikh identity" – at least for the short period that he actually looks/looked like a Sikh.
However, there is definitely some concern with the way the dastar/turban has been used in Bollywood as of late. It seems that the turban has become a fad in the film industry. One website called the recent love of turbans the "T-Factor," stating:
It did the magic for Sunny Deol in films like 'Gadar-Ek Prem Katha' and 'Jo Bole So Nihaal' and it has done it again for Khiladi Kumar in 'Singh is Kinng'. Talking about the T-factor, turban is in for Bollywood stars these days.

Now that they have realized that the pagdi could lead their way to success, Salman Khan will be seen with it in Samir Karnik's multi-starrer 'Heroes'… Source.
I don't know how I feel about the movie, but the media surrounding it and the way the turban has been marketed do raise some questions.  But with all of the attention I wonder why Bollywood still hasn't casted a real, live, practicing Sikh as a Sikh…
——
The movie trailer can be viewed here on Youtube.
You can also read about our discussion about the movie "Singh is Kinng" here and about the commodification of the Sikh identity, with the introduction of the Kenneth Cole ad featuring a Sikh model, here.