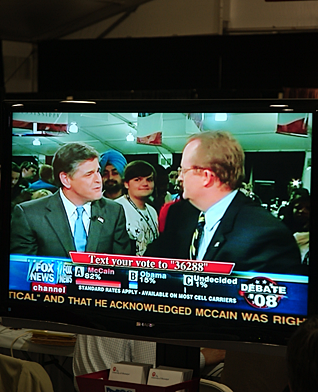 Were you watching the Presidential debate last Friday? Did you catch flashes of a sardar in a blue turban? I assume that anyone who did was equally as surprised as I was (though happily so). Well, who is the mystery man? He's Arvinder Singh Kang, a twenty five year old who was the only Punjabi, and the only Sikh at the University of Mississipi when he came from Punjab to do a graduate degree.
I came to the U.S. in the fall of 2005, as a graduate student at the University of Mississippi. From a proud Sikh family, I was the first kid from my village and from my maternal and paternal lineage to come to America for studies.

I brought twenty-something Puggs (turbans). I knew Japji Sahib by heart and had been exposed to Sikh history more than I had been to comics. All through my undergrad years, I had taught my juniors how to wear a turban. There was no doubt, whatever the circumstances might be, I would always be a Turbanator!

While boarding a plane from London's Gatwick Airport, I sat beside a Sikh girl living in Houston who was born and raised in London. "…So it's going to be hard to keep a turban in university", she said in a lovely British accent.

"Much nee te kuch nee!" (What's a man without a mustache) I had quipped. [link]
You can read more from Arvinder at Sikhchic.