An interesting infographic circulating the Web has many people talking about the relationship between wealth and religion.  The graphic, titled The Almighty Dollar, was created by GOOD and Column Five Media and breaks down income levels in the U.S. by religion.  Data is based on information from the Pew Forum and it compares the income level of each religion to the national average.  From the website: It's no secret that the distribution of wealth is inequitable in the United States across racial, regional, and socio-economic groups. But there is a distinct variance among and within America's faiths as well.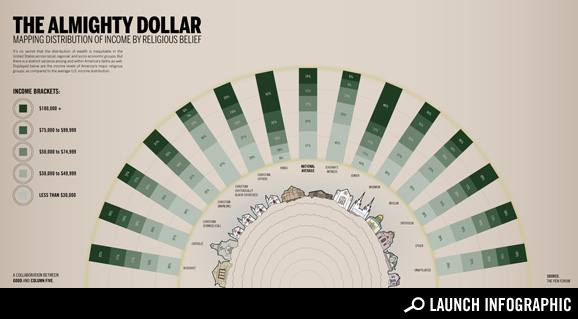 If you click on the image above, it will enlarge and you'll see information broken down by several religious groups such as Jewish, Christian (divided into several groups), Buddhist, Mormon, Muslim etc. You'll notice that Sikhism is not one of them (not sure why?). There are five income brackets (Less than $30,000 to $100,000+) listed and numbers signifying what percentage of each religious group falling into which income bracket.
43% and 46% of Hindus and Jews, respectively, fell into the $100,000+ income bracket while 8% and 9% of Christians (Historically Black Churches) and Jehovah's Witnesses, respectively, fell into this same income bracket.  Interestingly, Buddhists look to have the most equal distribution for each income bracket.
Many conversations on the internet have focused on the idea that immigrants make up a large portion of religious groups such as Hindus and Muslims.  This is probably quite true.  Individuals from these groups who are in the United States today, are probably more educated.  The representation of these groups in this data sample is highly selective.  Wealth is therefore probably more related to education rather than religion.
Other conversations suggest that those religious groups who have the lowest percentage in the $100,000+ also give the most money to their place of worship.
Having said that, what religious group's distribution would Sikhs most likely follow?  How would those individuals, who identify as Sikhs, be represented on this infographic?