In anticipation of Biden's showdown with Palin tonight, as I wondered how Biden would perform in the strange, negotiated format that really favors Palin- allowing only 90 seconds for a response before two minutes for discussion (since every newscaster is cautioning Biden to not come across as chauvinistic) this picture gave me extra pause.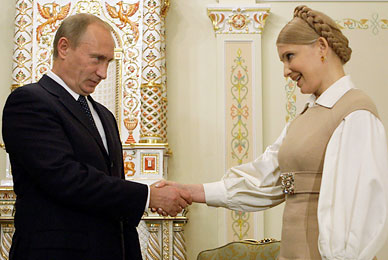 The headline reads: "Putin accuses Ukraine of having assisted Georgia during war"
That's ….Putin ….accusing Ukraine (Tymoshenko is the Prime Minister) of assisting Georgia against Russia??
Ladies, they're on our turf now!