I don't really know what to make of this, so I won't even comment. I'll just let you form your own opinions.
Paramvir Singh Chattwal, of central Hounslow, who claims to be the world's only Sikh rodeo star after taking up the sport while living in Texas has hung up his spurs for now to track down information about his decorated forefather, who he believes died in or around [Hounslow]. …Paramvir has already spent years researching the life of Risaldar Major Sher Singh Sirdar Bahadoor, who was an original member of the Punjab Frontier Force, formed in 1849. [link]
I'm more interested in Paramvir's cowboy-ness, than his hunt for his great great grandfather's legacy, though Paramvir's view of his ancestor is a bit twisted. Paramvir seems to be equally proud of his cowboy activities, as his grandfather's fighting for the British in 1857, against his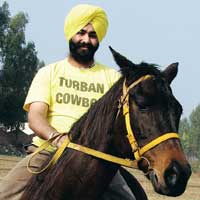 fellow Indians, and also escorting the Kohinoor to become part of the British treasury.
But Paramvir believes [his ancestor] earned his peers' respect by escorting theKoh-i-noor diamond, then the largest in the world, on a perilous mission across India to Calcutta before it became part of the British Crown Jewels in 1877. "I couldn't believe he'd been breaking social barriers in 1887 by mixing with the British aristocracy and five generations later I'm doing the same by taking up rodeo," said Paramvir. (emphasis added) [link]

I'm not trying to promote a tribal mentality (not that that's a bad thing). But, since when is "mixing with aristocracy" breaking a social barrier?? Slaves "mixed" with their slave owners. Prisoners "mix" with the guards that keep them locked up. Paramvir, you're confirming my suspicion that all cowboys are stupid, and I really don't like to generalize. (Ok, one comment.) I hope this article has misquoted you.
Oh and if you have any more information about that might help Paramvir in his search for his ancestor's legacy:
The 34-year-old horse breeder is determined to find out where his grandfather stayed and get in touch with any descendants of the British leaders like Sir Sam Browne, General F S Roberts and Sir Dighton Probyn. If you know anything about the history of the Punjab Frontier Force or where Risaldar Bahadoor may have been stationed, call 020 8538 2227 or email [email protected] [link]
Yeehaw! (Sorry, couldn't resist.)