Punjabis (at least in East Punjab) love to protest. The cause is usually grim, the consequences leave one hoping for more, but the spirit and energy behind the gathering leave one (at least this one) with a sense of contentedness in belonging to such a proactive community. In honor of International Women's Day, women from various groups were found on the streets highlighting the problems they face.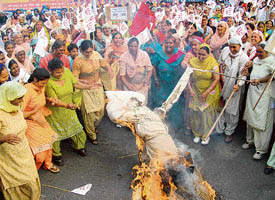 In Amritsar, a group of women burned an effigy in protest of the state and central government's "anti-people" policies, according to The Tribune (I hope that journalists become a little more investigative soon- which "anti-people policies" did the burning effigy represent? We'll never know. If only Mr. Vishal Kumar had bothered to ask a few follow up questions…)
In Nawanshahr, a Kavi Darbar and seminars were organized in honor of Int. Women's Day where Punjabi poets read their works urging women's empowerment. (Ironically, the poets were all male.)
Our neighbors to the West (in Lahore) noted that most efforts in their half of Punjab for Int. Women's Day did nothing for the most vulnerable women- those struggling to survive. Expressing dissatisfaction, some women called the efforts of Ministers, NGOs, and government organizations "ploys to attract foreign donations."
Perhaps the most interesting celebration of Int. Women's Day was in Shahkot (Jalandhar area), where dalit women put a new twist on Jago, the traditional dance meaning "wake up" performed by women before a wedding. They ingeniously took out a Jago to highlight the sham free electricity that had been promised to landless laborers by politicians during election time. I would love to hear the boliyan they came up with for the occasion…
"In the present context the aim was to expose the much-touted free power scheme for their households, which was a sham. After the announcement of the scheme we stopped paying our bills, following which PSEB employees came to disconnect the connections," they said. "When we resisted we were told that they had no such instructions and that we should either pay the bills or they would disconnect the power supply. Cases were registered against nine women at the local police station," they alleged. Commenting on International Women's Day, they said this was an urban concept limited to the educated class. "At midnight we are still protesting while those who are planning seminars and events today would be busy rehearsing their speeches."

Unfortunately, the Revenue Minister whose house they were jago-ing towards wasn't home and the crowd dispersed. (My guess is that he was actually sipping cha comfortably in his living room, and just didn't want to be interrupted.)
The procession was stopped by a posse of police at some distance from the residence of revenue minister Ajit Singh Kohar. The protesters were informed that the minister was away to Chandigarh. He was contacted on the phone and a meeting was fixed for 6 pm today, following which the agitators disbursed.