In Sri Lanka last week, a brave voice was silenced.  The editor of the Sunday L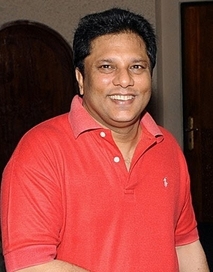 eader, Lasantha Wickramatunga, was killed by gunmen on two motorcycles on his way to work.  With prescience, he had predicted his impending death, believing that he would be killed by the government.  He wrote an incredibly moving essay, with instructions that it be published upon his death.
A brief summary of the context, the war which Wickramatunga covered and was silenced by, can be found here.
Wickramatunga's essay is deeply moving. You can find it in full here and here. Below is an excerpt:
No other profession calls on its practitioners to lay down their lives for their art save the armed forces and, in Sri Lanka, journalism. In the course of the past few years, the independent media have increasingly come under attack. Electronic and print-media institutions have been burnt, bombed, sealed and coerced. Countless journalists have been harassed, threatened and killed. It has been my honour to belong to all those categories and now especially the last.

I have been in the business of journalism a good long time. Indeed, 2009 will be The Sunday Leader's 15th year. Many things have changed in Sri Lanka during that time, and it does not need me to tell you that the greater part of that change has been for the worse. We find ourselves in the midst of a civil war ruthlessly prosecuted by protagonists whose bloodlust knows no bounds. Terror, whether perpetrated by terrorists or the state, has become the order of the day. Indeed, murder has become the primary tool whereby the state seeks to control the organs of liberty. Today it is the journalists, tomorrow it will be the judges. For neither group have the risks ever been higher or the stakes lower.

Why then do we do it? I often wonder that. After all, I too am a husband, and the father of three wonderful children. I too have responsibilities and obligations that transcend my profession, be it the law or journalism. Is it worth the risk? Many people tell me it is not. Friends tell me to revert to the bar, and goodness knows it offers a better and safer livelihood. Others, including political leaders on both sides, have at various times sought to induce me to take to politics, going so far as to offer me ministries of my choice. Diplomats, recognising the risk journalists face in Sri Lanka, have offered me safe passage and the right of residence in their countries. Whatever else I may have been stuck for, I have not been stuck for choice.

But there is a calling that is yet above high office, fame, lucre and security. It is the call of conscience.
The Sunday Leader has been a controversial newspaper because we say it like we see it: whether it be a spade, a thief or a murderer, we call it by that name. We do not hide behind euphemism. The investigative articles we print are supported by documentary evidence thanks to the public-spiritedness of citizens who at great risk to themselves pass on this material to us. We have exposed scandal after scandal, and never once in these 15 years has anyone proved us wrong or successfully prosecuted us.

The free media serve as a mirror in which the public can see itself sans mascara and styling gel. From us you learn the state of your nation, and especially its management by the people you elected to give your children a better future. Sometimes the image you see in that mirror is not a pleasant one. But while you may grumble in the privacy of your armchair, the journalists who hold the mirror up to you do so publicly and at great risk to themselves. That is our calling, and we do not shirk it.

Every newspaper has its angle, and we do not hide the fact that we have ours. Our commitment is to see Sri Lanka as a transparent, secular, liberal democracy. Think about those words, for they each has profound meaning. Transparent because government must be openly accountable to the people and never abuse their trust. Secular because in a multi-ethnic and multi-cultural society such as ours, secularism offers the only common ground by which we might all be united. Liberal because we recognise that all human beings are created different, and we need to accept others for what they are and not what we would like them to be. And democratic… well, if you need me to explain why that is important, you'd best stop buying this paper.

The Sunday Leader has never sought safety by unquestioningly articulating the majority view. Let's face it, that is the way to sell newspapers. On the contrary, as our opinion pieces over the years amply demonstrate, we often voice ideas that many people find distasteful. For example,  we have consistently espoused the view that while separatist terrorism must be eradicated, it is more important to address the root causes of terrorism, and urged government to view Sri Lanka's ethnic strife in the context of history and not through the telescope of terrorism. We have also agitated against state terrorism in the so-called war against terror, and made no secret of our horror that Sri Lanka is the only country in the world routinely to bomb its own citizens. For these views we have been labelled traitors, and if this be treachery, we wear that label proudly.

Many people suspect that The Sunday Leader has a political agenda: it does not. If we appear more critical of the government than of the opposition it is only because we believe that – pray excuse cricketing argot – there is no point in bowling to the fielding side. Remember that for the few years of our existence in which the UNP was in office, we proved to be the biggest thorn in its flesh, exposing excess and corruption wherever it occurred. Indeed, the steady stream of embarrassing exposes we published may well have served to precipitate the downfall of that government.

Neither should our distaste for the war be interpreted to mean that we support the Tigers. The LTTE are among the most ruthless and bloodthirsty organisations ever to have infested the planet. There is no gainsaying that it must be eradicated. But to do so by violating the rights of Tamil citizens, bombing and shooting them mercilessly, is not only wrong but shames the Sinhalese, whose claim to be custodians of the dhamma is forever called into question by this savagery, much of which is unknown to the public because of censorship… (emphasis made) [The Sunday Leader]
The rest of the essay is equally as beautiful and powerful.  I guarantee it's worth your time. Please read it.
I post this instead of just sharing it with friends to reflect, for a moment, on what I think the purpose of the The Langar Hall is and should be, perhaps to celebrate our one year anniversary very belatedly (I didn't have internet access for most of December).  Though our challenges are more subtle and not as violent as Sri Lanka's, Wickramatunga's commitment to hold a mirror up to his community is, in my mind, an admirable model for us here at The Langar Hall.
As bloggers, we don't attempt investigative journalism, we leave that to real journalists. But I like to think that through discussions, through contributions by commenters from all ideologies, the resulting conversation is a sort of mirror, a reflection, of what people are thinking in our community.
Of course we have an angle, which we've never hid. What we don't have and don't claim to have, is the truth or an agenda.   Perspectives and opinions, we've got plenty, and so do you.   Answers, we'll have to come up with together.