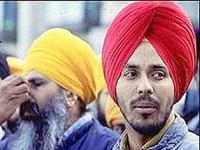 In a brutal attack, a homeless Sikh man, Navtej Singh Sidhu, in Italy was attacked and set on fire.  While news of our brothers and sisters in Italy does not always feature prominently in The Langar Hall, the horrific nature of this attack has received international press and proper condemnation from Italy's President, Giorgio Napolitano.
The President stated:
"By now, these cannot be considered as isolated events but as alarming symptoms of a widespread trend that is unfortunately growing," he said.

"I appeal strongly to those who have institutional, cultural and educational responsibility to commit themselves fully to putting a stop to any display of xenophobia, racism and violence." [link]
[Sorry for a quick digression, but it is interesting that last week I reported on TOI's usage of religion.  When reporting about Khalsa murder of Hothi, the TOI was quick to use the word 'Sikh' in the headline.  In this attack, the TOI article's headline is Italian President slams racist attack on Indian.]
In addition to the Italian President's comments there has been an outpour of support from other communities as well.  Community activists from the Italian Jewish community released the following statement:
"When we [Jews] are the object of hostile acts, we receive support from all sides, and we want to do the same in this case," said Rome's Jewish community president, Riccardo Pacifici.

"We feel a vital part of Italy and join in protest with everyone against such actions," said Rome's chief rabbi, Riccardo Di Segni. [link]
Italy has seen a rise in xenophobic violence against immigrant labor groups.  In some ways, the Italian government has been fanning the flames.
Silvio Berlusconi, the Italian prime minister, has been accused of exploited anti-Roma feeling for political ends.  During his election campaign, he promised a severe clampdown on "Roma, clandestine immigrants and criminals" and his coalition's candidate for mayor of Rome pledged the expulsion of "20,000 nomads and immigrants who have broken the law".  Even the most recent attack on the Sikh man has been tied to the government's policy.  The opposition leader, Walter Veltroni held that the attack was due to "xenophobic preaching and a climate of hate and fear" created by Berlusconi's centre-right administration.
The EU had already warned Italy against singling out the Roma community.  Still there are more and more troubling reports of violence directed against immigrants coming out of Italy.  With the downturn in the global economy, one can only assume it will get worse.
The dastardly attack was perpetrated upon Sidhu by 3 assailants, including a 16 year old.  Sidhu is still in an Italian hospital, after having been severely beaten, sprayed with metallic paint, sprinkled with petrol and set on fire as he lay asleep on a bench in Nettuno station some 60 km from Rome.  Sidhu had become homeless recently as he had lost his job as a construction laborer four months ago and his residency permit had expired in his wait for its renewal.
Police said the three men (boys, really) admitted they had attacked the Indian immigrant "for fun" in order to "cap off" a night on the town, fuelled by drugs and alcohol, by doing something "sensational, to experience an intense emotion", the Italian news agency ANSA reported.
"We were looking for a down-and-out person, someone sleeping rough. Not necessarily a Romanian or a black person, just someone we could teach a lesson to," the three young suspects told a local newspaper.[link]
There are around 10,000 Sikhs in Rome and 15-20,000 in the Province of Rome.  Most are employed as labourers, mainly in agriculture.
Although I do not wish to extend the parallel too far, the brutality in which Sidhu's assailants tried to set him on fire, in this 25th year since the events of 1984, I cannot help but reflect on the two events.  Although the incidents are hardly the same, still it shows what can be the effects when governments allow xenophobic and hate-filled speech to go unchecked.  Unlike in 1984, it seems that the Italian state has reacted at least to give some sort of justice to Sidhu.
Singh Agit [Ajit?], who leads the Sikh temple in the Nettuno suburb of Padiglione, agreed the attack against Sidhu was worrying. "It is the first time such an awful thing has happened to one of our lads," he told AKI.

Singh and Ajit said they are grateful to Rome's mayor, Gianni Alemanno who earlier this week on television announced that he will give Sidhu a permanent job and accommodation when he gets out of the hospital.[link]