Updated and extended, August 9
I try not to do this too often, but I realized I may not have adequately contextualized what I was getting at when posting on Hard Kaur. I've tried to extend the analysis and conversation below: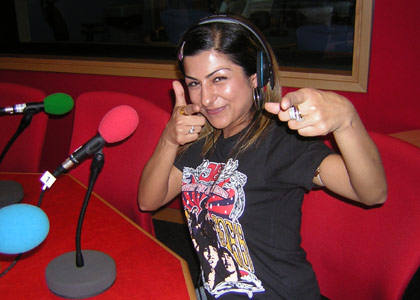 I've been thinking about Hard Kaur (Taran Kaur Dhillon) a lot lately, primarily because I've been flirting with the idea of buying her debut album, Supawoman. Hard Kaur is a tricky personality for me. On one hand, girlfriend has overcome the adversity of her hard knock life as a pioneer in her field. On the other hand, her conflation of Sikh and Punjabi identity, her often unimpressive rapping, and her totally not-Sikhi-friendly lyrics make me reconsider her as a role model. Is she an emblem for Sikh women's empowerment, or perhaps just a symbol for women of color artists? Her moniker and image are dramatically at odds with one another. So what do we embrace, or eschew, from her, and can we negotiate how this works for young Sikh women?
Many point to HK's intense image and claim that she is not a Sikh role-model, and others would claim she's not a particularly good role model for other young women, either. I agree with the former and disagree with the latter (more after the jump).
HK has been pretty clear about stating that, while raised in a Sikh household, she does not identify with Sikhi or as a Sikh. However, her interviews indicate a connection and affiliation with being nationally Indian, and culturally Punjabi and Sikh. This gave me pause; what does it mean to be "culturally Sikh"? Often in debates around the ills that plague the Sikh community, those of us who identify as Punjabi Sikh  separate Punjabi identity as our "cultural" backdrop and Sikhi as our "religious" identity. I would argue that a third category has formed because of our unique identity as a diasporic nation; we now see a growing number of "cultural Sikhs" who do not necessarily claim or identify with the religion or religious community itself. Unlike "Singh," Kaur is a wholly Sikh name; you don't mean non-Sikhs who have this as a family name or otherwise. What does it mean, then, to go by the name "Kaur" when you don't identify with the practice and philosophy behind it?
Could it be that HK is emblematic of that third "category" as someone who identifies with a cultural experience, but not the religious background? There are many vectors across which we could deconstruct her image as an artist and as a female rapper/MC, and there's a lot of room for analysis in terms of her role in a male-dominated industry. I don't think it's worth wasting our time arguing over whether she is a Kaur or not, but I do think it's worth asking how her high-profile (and ever-growing) personality impacts the identities of Sikhs who are religious, and of individuals who may not identify as Sikh but may have been raised in Sikh homes.