The SJ Mercury News ran a story on Dhol Di Awaz [disclaimer: I went to Cal and was part of the Berk SSA] and made the argument that in today's multi-generational diaspoa, bhangra is the common thread that holds Punjabis together. I thought this was interesting on many levels. While the article is relatively well-written and sensitive, there were no excerpts from conversations with non-Sikh Punjabis, and certainly not with Pakistani Punjabis.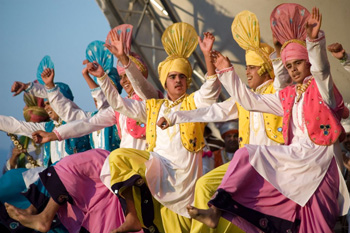 This divide over who has a "right" to bhangra has certainly been a source of tension in the DDA-verse in the past — while many embrace bhangra as a Punjabi dance that can be shared by all across religions (and even regions), while others argue that some of the uniform elements of the dance (e.g. the phugri) require a Sikh focus. In the Bay Area, where Punjabis are somewhat divided along religious lines by neighborhoods, are we being truly honest with ourselves re: tolerance and inclusivity? Along those lines, is bhangra tying together generations of Sikh Punjabis from Indian Punjab, or is it tying together ALL Punjabis? I would argue that bhangra (and giddha), which is, in its purest essence, a dance of joy and celebration, belongs to everyone. It doesn't see religion or region, and it also doesn't see a "backdated" interpretation of "traditional" uniforms. This made me reflect on a question I often ask myself — where does the Punjabi begin/end and the Sikh begin?
Oftentimes our Sikh and Punjabi identities are at odds with one another, and other times they are so intertwined that it is hard to untangle the cultural from the religious. For example, while DDA serves as a fundraiser that allows the Berkeley SSA to conduct great community programs, when someone advertised the afterparty as "official" (it was not official and was not endorsed by the organization) a few years ago, the question of sharaab [alcohol] was not at odds with bhangra, but was certainly at odds with Sikhi.
What do you think, readership? Has our sense of who is Punjabi shifted with the shifting borders of our parents' homelands, or are subsequent generations building a community identity, again, in the diaspora? Or, because of our relatively large numbers in California, our lack of non-religious community spaces (i.e., the gurdwara is, for many, the only site of community gathering), are we simply given more of an opportunity to remain in our own enclaves?
Dhol di Awaz X is this Saturday, February 2nd at the Flint Center in Cupertino, CA. Tix are $20 in advance, $21 at the door.