Heads-up friends, the season of the "Spinning Wheel Festival" is about to begin across North America this autumn.  Celebrating Sikh films and art, the first stop will be in New York City on Saturday, October 04, 2008 at the Asia Society & Museum (p.s. that's next Saturday). Buy your tickets NOW! The wonderful Rabbi Shergill will be performing at the opening gala (yes I am really biased here … I heart Rabbi Shergill)  and DJ Rekha will be literally "spinning" at the after party.
Films a the NYC festival will range from documentaries on Pahelwani (i.e. Panjabi wrestling) and Kaba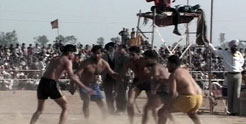 ddi-playing Canadian police officers to issues affecting the Sikh community from 1984 and post-9/11 hate crimes.  There will also be short and feature films.  For example, one on a young boy'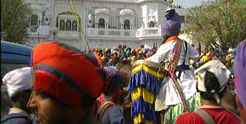 s struggle to keep his hair while his family fears the obstacles he will encounter and another on "… a young Sikh doctor struggling with the inequities of the American Health System and ultimately his own identity".  The Holy Duels of Hola Mohalla is a film looking at the Khalsa Panth.
The films seem interesting both in content and presentation. The stories are grounded in the realities many of us encounter everyday.  You can get a full listing of the films and their synopses here.
In the past, I have attended the "Spinning Wheel Festival" at one of its many North American stops and found it a great space for artists and art-enthusiasts to be exposed to Sikh creativity.  I remember there being a panel discussion with the directors and the audience.  We don't have too many of these creative opportunities in our community even though we spend plenty of time and space advertising foreign medical schools in Poland, China, and the Caribbean.
I have found that some films are really hit or miss at these festivals, but it's expected sense the focus is on cultivating and inspiring creativity; while, building a permanent Sikh film festival for years to come.  Cash prizes are awarded to the "bests" in various categories. I have been told that the listing and quality of films varies across the different North American stops.
At the end of the day why not go, especially if it's close by. I personally think it's worth a visit as an act of supporting Sikh arts and learning about the various issues affecting our community. Sometimes we get too caught up in our own worlds and don't realize these issues are taking place or we are in amidst of them and they become normal parts of our lives leaving very little room for reflection or exposure to others' perceptions.  Thus, it's an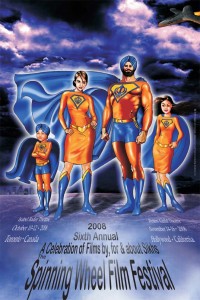 opportunity to get a fresh/new look at various issues.
Lastly, the arts, from painting and photography to films and music, are our community's soul!  They help us speak in ways we can't always articulate.  So go save your soul and attend a Sikh artistic event!

Okay, enough of the attempt at convincing … the other North American stops will be:
Toronto, Canada from October 10-12, 2008 at the Isabel Bader Theatre.
Hollywood, California from November 14-16, 2008 at the Writers Guild Theatre.
Are ya'll thinking of going?  What have your experiences been at the various Spinning Wheel Festivals?  Does anyone know of other North American stops?
p.p.s. The Toronto and Hollywood poster is really interesting isn't it … a conversation in of itself!