Sikh Leaders and Speaking Up for the Sikh Identity
Recently I have read a few articles about instances where Sikh leaders have partaken in activities with various anti-Sikh groups, such as the RSS and Dera Sacha Sauda. 
In part, the controversies that have arisen are rooted in the questions of what role Sikh leader ought to play in the context of anti-Sikh propaganda.  Should our leaders be attending functions organized by anti-Sikh groups?  Should they boycott them?  Many leaders have been seen "supporting" such organizations by hobnobbing with, accepting gifts from, and turning a blind eye to their activities.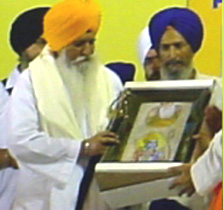 One recent instance of this is the Jathedar of the Akal Takht and others accepting pictures which expressly co-mingle Sikhi with Hinduism (with Guru Nanak Dev Ji and Sri Ram) at an RSS function. It may not seem like a big deal, but one of the RSS's assertions is that Sikhs are derivatives of Hinduism and that the Guru's are the descendants of the Hindu God Ram.  I wonder if anyone else feels that our Jathedar's acceptance of such a picture is a bit shady?  As a Sikh I expect my leaders to stand up for Sikh beliefs and the Sikh identity – not accept memorabilia which dilutes my identity and depicts something that they sit on stages across the globe and negate. 
As I write this post, I realize that some of you may be thinking that of the instance above does not amount to much, but I think it is illustrative of a much larger issue …if our leaders do not take a stand on something as simple as "Sikhi and Hinduism are not the same," then where does that leave us as a Sikh nation?  How are we to face other challenges to our identity in the West?  What are our expectations of our leaders?  And are there any avenues we can take to enact change?