A Sikh Barack Obama?
Posted by Jodha in
Canada
,
Politics
on 10 27th, 2008 |
25 Comments
I was waiting until after the election to write this post as I didn't want my personal thoughts to be in anyway seen as promotion or endorsement.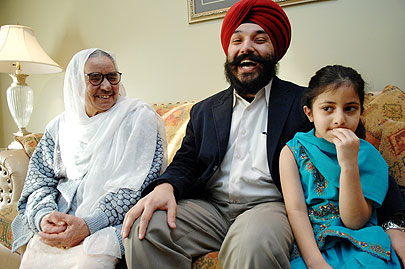 I have been a fan of Navdeep Singh Bains for many years now.  I still remember his victory into the Canadian parliament as the first Amritdhari Sikh 4 years ago and I believe the youngest elected Liberal MP (26 years old) at that time.  My respect for him grew, in what I believe, was his principled opposition to an overstretching then-Jathedar Vedanti on the issue of same-sex marriages.
Vedanti said he was dismayed that one MP, Ontario Liberal rookie Navdeep Bains, argued against him, but said the others listened respectfully.

"The Sikh religion would never accept such MPs," said Vedanti. "Nobody would support such a person having such dirty thoughts in their mind because it is against the Sikh religion and the Sikh code of conduct and totally against the laws of nature." [link]
Well many Sikhs as well as many others Canadians in the Mississauga-Brampton South riding, continue to support and 'accept' Navdeep.  Just this month he successfully won his third term.  (Vedanti on the other hand has come and gone [I have noted my criticism of the present Jathedar-obsession in a previous post])