Celebrating Triviality
Posted by Jodha in
Organizations
,
USA
on 06 6th, 2008 |
24 Comments
WARNING: This is MY opinion and DOES NOT not represent anyone else on The Langar Hall. Hopefully, unlike Ennis, I won't have to take this one down.
I am sure I am going to be labeled as a hater. I don't care it must be said.
Scouring the news I came across a recent press release by the Sikh Council on Religion and Education. I almost feel even more embarrassed by highlighting it. SCORE, for the uninitiated, is a Sikh organization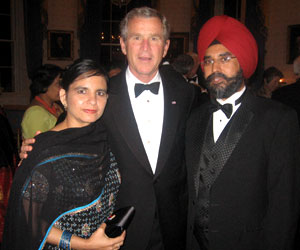 based out of Washington DC. It is the child of Dr. Rajwant Singh, a Maryland-based dentist. He is definitely one of those guys that likes to 'speak for Sikhs.'
Like many Sikh organizations, SCORE is a one-man show. Don't believe me, check out the pictures on the website, you'll find few without Dr. Rajwant Singh. He may be the most pictured Sikh-American. (Look to the right, I just added one more!)
Now I really don't know what SCORE does, other than look for photo opportunities, but to Dr. Rajwant Singh's credit, he has established relationships with many political figures in Washington DC and has ingratiated himself as the 'Sikh' representative in many interfaith functions and communities in DC. DC loves interfaith functions! That is a good thing. Sikhs should have a representative and in the meantime we have Dr. Rajwant Singh.