Kar Seva – A Sikh Environmentalist Stands Out
Posted by Sundari in
Activism
,
Environment
,
Sikhi
on 10 7th, 2008 |
6 Comments
Time magazine recently named Balbir Singh Seechewal amongst its "Heroes of the Environment 2008."  The acknowledgement highlights the work of activists such as Balbir Singh and shows how their passion and innovation can positively impact the environment.  Balbir Singh is described as "the Sikh who cleans the corrupted rivers of India," and he is accoladed for his work of cleaning the historic Kali Bein river.  The 99-mile-long river, in the Hoshiarpur district, is considered historically significant because Guru Nanak Dev Ji was said to have received enlightenment after taking a dip in the Kali Bein river. However, due to years of neglect, the river has become a containment of waste,
Over the past couple of decades it was reduced to a filthy drain into which six towns and more than 40 villages emptied their waste. Parts of the river dried up, leaving neighboring farmlands parched. Its polluted waters also seeped underground, contaminating the groundwater and causing lethal diseases.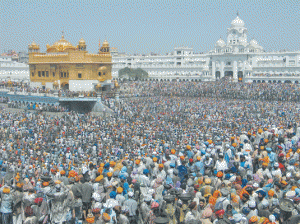 In 2000, Balbir Singh and inspired volunteers decided to use the concept of kar seva (voluntary service) to physically clear the entire riverbed and build riverbanks and roads alongside the river.  In addition, they educated the locals via a public-awareness campaign on how to keep the river clear of waste.  Today the river is not only cleared of sewage, but the natural springs have been revived and the river is once again flowing. 
As we join others in praising Balbir Singh and his volunteers for what they have accomplished with the Kali Bein river, I also want to highlight the concept of Kar Seva and take the liberty to ask if we do enough of it?  The most famous examples of Kar Seva occurred at the Darbar Sahib in Amritsar.  I have seen pictures and videos of the last Kar Seva which occurred in Amritsar – and I have to admit, I don't think words can describe the power of those images.     
We seem to be pre-occupied with building new gurdwaras (yes, I know – that's a whole other issue), but i mention it to simply say that as a community, we don't do a very good job at sustaining our current establishments.  Whether we speak of our historic gurdwaras in Punjab (both East and West Punjab) or if we think about our gurdwaras here in North America – there is a lot of Kar Seva which can be done.  After seeing the images of Kar Seva at the Darbar Sahib, it is amazing to me how our community can mobilize itself to such an extent and peform such an incredible act.  And yet, in many communities and at many gurdwaras, we struggle with keeping the kitchen clean or the trash picked up.  Can Kar Seva exist outside of Punjab?  It just makes you wonder….