Hard Times for Punjab's Migrants
Posted by Sundari in
Economy
,
Punjab
on 12 16th, 2008 |
9 Comments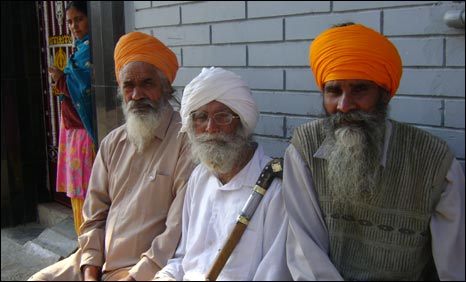 The World Bank estimates that nearly six millon Indians working abroad sent $30 billion home in 2008.  Of those, it is estimated that Punjabi non-resident Indians sent between $150 million to $160 million.  It should come of no surprise that Punjab is feeling the ramifications of the global economic downfall (Maple Leaf Sikh recently blogged about the impact on Canada's Punjabi community).  Many migrants have learned to live frugally within their host countries so that they can save as much as possible to be able to send the money back home to Punjab.   In turn, Punjab relies heavily on income invested back into the region by it's migrants.  Take Pyara Singh for example.  He has been living in Germany for the past 14 years while his parents, wife and two children live in Giljian, Jalandhar.
Pyara Singh is on his annual visit home from Hamburg, Germany, where he works as a cook in a pizzeria… In this village of 300 homes, almost every family has sent one or more of its members to foreign shores.  And the remittances they have sent back over the years have helped the residents here live a life of affluence that many in India can only dream of. Many of the houses have been built in the last few years and most are large. Some have expensive SUVs parked in their front yards. The conversation here is peppered with references to children and grandchildren making a living in the US, Canada, UK, Germany, Italy, France and Belgium. [link]
It is becoming starkingly clear that the global economic downturn has made individuals and communities more conscious of living within their means.  Like the rest of the world, Punjab will also be struggling to make ends meet under its own circumstances.
A lack of industry and the outbreak of Sikh militancy in the 1980s also contributed to the flight of people to unknown shores in search of better prospects. "During the militancy, shiploads of men from Punjab fled to other countries and settled down there after getting political asylum. In time, they took their families and then friends and acquaintances too," says Major Singh, a journalist in Jalandhar. "Punjabis can do only two things – they either join the army or they migrate. They have a craze to go abroad. But they are very hard working and they adjust well wherever they are," he says.