Sikh Women: Making History
Posted by Sundari in
Art
,
Film
,
Women
on 09 21st, 2011 |
18 Comments
Each year, SikhNet hosts an online youth film festival – to cultivate interest from Sikh filmmakers from around the globe.  The online film festival is an excellent way for individuals to dialogue about issues affecting us personally and as a community.  One of the films, titled Khalsa Has No Gender, is made by a group of young teen-aged Sikh women living in England and the goal of the film is to address gender [in]equality within our community.  The film was striking to me for several reasons.  Firstly, that these young women chose to use the medium of film to discuss this very important issue and secondly, that the concept of gender discrimination and inequality is prevalent in the conscience of very young Sikhs – Sikhs who are perhaps even 3rd and 4th generational living in the disapora.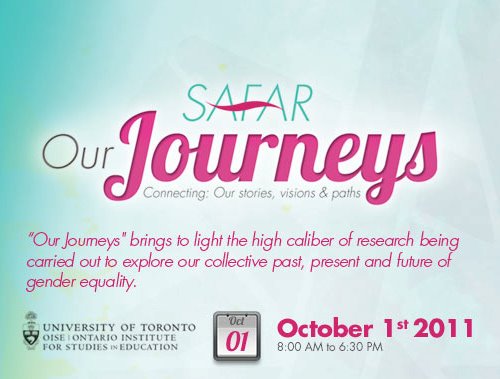 While on one hand it's disheartening to acknowledge that perhaps change is slower than we have hoped it to be (displayed by the film), there is – on the other hand – reason to be optimistic.  In just over a week, scholars and community members from across the globe are gathering in Toronto for the very first Sikh Feminist Conference, "Our Journeys", hosted by the Sikh Feminist Research Institute (SAFAR).
[Our Journeys is] an opportunity for scholars and community members alike to openly connect, converse and engage in a dialogue and critical thinking about gender related issues that demand to be voiced, and heard, in order to be addressed.
The line up of topics and speakers is remarkable.  The keynote speaker, Professor Nikky-Guninder Kaur Singh is well known for introducing the term "Sikh feminism" and will share a Panel with Geetanjali Singh Chanda and Mallika Kaur to explore how Sikh feminism is defined, its origins, the present-day reality and how it can be an impetus for social change.