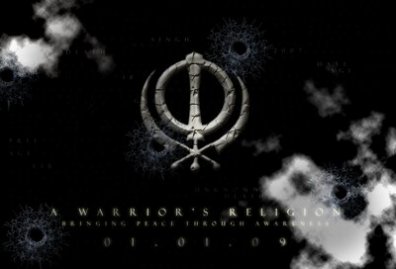 While many may still be reveling in Slumdog's Sunday limelight, a darker movie about Indo-Canadians in Vancouver (the vast majority of who are Punjabi-Sikh), aiming to shed light on gang violence, is sparking criticism. [See trailer here.]
The film titled "A Warrior's Religion" was made by Mani Amar, who describes it as a poetic documentary.  When asked about what drove him to make the film, he said:
"It had to be done. How many more people need to die? We are past the 130 mark of deaths in our community. The issue is not slowing down … How readily we have accepted gang violence and how engrossed we are in it is what propelled me to do it. We are so relaxed about an issue that we should not be relaxed about at all." [link]
In the film, Mani interviews Bal Buttar, a high-profile former gang member who is now blind and a quadriplegic after being shot in a gang related incident.
Mani said: "When I met Buttar, I laid it out on the table directly to him and said to Buttar, "I don't respect you. You have an opportunity in your life to show youth that this is what gang violence will bring you." For whatever reason, Buttar accepted the challenge. In the end though, I reaffirmed that it's only death or jail to get out."  For Mani, what resonated most from the interviews was Buttar's way of explaining karma: "You take blood. That blood gets taken from you." [link]
Controversy has arisen from the film's name, "A Warrior's Religion," and its use of visual references to Sikhism through images of gurdwaras, scenes from a Vaisaikhi parade, martyrs, and an image of a khanda in flames with bullet holes in the background.  Mani explains how he chose the name:
" I chose the title for a couple of reasons. One issue is that these guys (those who died in gang-related activity) come from a warrior background." Secondly, whether you like it or not, Sikhism was based on the warrior principles from our tenth Guru and forward… A lot of people think of being in gangs as being the equivalent of being a warrior, a warrior gangster." Mani added, "across the globe, Sikhs have always been defenders of the oppressed and the violence they use is as a very last resort, when defending a cause." [link]
Amar also explains his use of images of Sikh martyrs:
"I want to show that being a warrior does not necessarily mean being a gangster or murderer. I showed these images of killed or beaten Sikhs defending the Sikh religion. Thirdly, like it or not, the majority of gang-related violent deaths in the last 19 years in B.C. in the South Asian community are directly linked to people of Sikh background." [link]
I do hope that the vast distinction between the type of warrior that the 10th Guru envisioned Sikhs to be and the "warriors" that gang members believe themselves to be is made adequately clear. Otherwise, it could lead audiences who are unaware of Sikh history (both Punjabi, Sikh and non-Punjabi or non-Sikh) to misinterpret this history.  No influence of Sikhi could have contributed to any involvement in a gang; the self-absorbed life of fighting for power is antithetical to Sikhi's calls of defending the oppressed.
There will undoubtedly be criticism about the use of Sikh symbols and imagery in the movie.  Though criticism is often resisted, it's also often the beginning of many important conversations.  Whatever criticism is sparked by the title of this film and its use of Sikh symbols may ultimately lead to a conversation about what responsibilities we have as Sikhs to acknowledge and address Punjabi hypermasculinity and lack of male accountability.  And that wouldn't be a bad thing.
"A Warrior's Religion" is screening in Surrey on March 18th and 19th.
I hope the movie will make its way to East Cost cities in the U.S. so I can check it out.