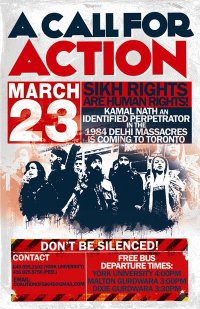 In some countries, those that perpetrate 'crimes against humanity' are punished.  In India, too often (depending on the political party), the perpetrators are awarded at the ballot boxes or are decorated with cabinet positions.  This is the story of Kamal Nath.
Kamal Nath is India's current Union Cabinet Minister of Road Transport and Highways.  It was on many of those same roadways in Delhi that Kamal Nath in 1984 personally led thousands of paid goons in the government-sponsored pogroms against the Sikhs.  Thousands were bloodily massacred; thousands were raped; many lives destroyed and devastated.  Many eyewitnesses have testified that Kamal Nath lead groups to attack the Sikhs seeking shelter at Gurdwara Rakab Ganj (the historic site where the body of Guru Tegh Bahadur was cremated after his shaheedi), killing many Sikhs and destroying the grounds of the Gurdwara.
Ensaaf's report provides detailed information on Kamal Nath's leadership and involvement during those dark nights in Delhi.  The Sikh Activist Network in Canada (one of the spearhead groups in the coalition) has also prepared a short report, highlighting specific sections written by lead human rights attorney for the Delhi widows – HS Phoolka – in regards to the role of Kamal Nath.
Now, this month he has been invited to Toronto to lecture.  As Sikhs, as Canadians, as people of conscious, as humans – we must act now.
The following has been sent to me via activists that are involved in stopping Kamal Nath from arriving in Canada (pagh salute KA and Mewa).
Kamal Nath has been invited to Canada at the behest of the Canada-India Business Council, according to Rana Sarkar, president and executive director.  The event, titled "The Future of Indian Infrastructure and Trade" is being held Tuesday, Mar 23, from 6.30pm, at Le Meridien King Edward Hotel (371 King St East, Toronto.
The plan of action involves ALL.  The recommendations are as follows:
Step One:
Email Event Sponsors:
The sponsors consist of Macquarie, Bombardier, Bennett & Jones, BMO Capital Market and Government of Ontario. I have added their contact information in the attached Excel sheet, and attached a sample letter for sponsors.
Keep in mind some of these companies have business interest with India and we are NOT opposed to that, rather we only oppose this specific speaker.
For sample letter for sponsors, click here.
Step Two:
Call your Local MP and MPPI have attached the Microsoft Excel Sheet with the contact information for every MP/MPP. Please look under the Blue and Red Tab or just Google them.
Step Three:
Follow up with an email to your MP and MPP. I have attached a sample letter for your reference. Feel free to copy and paste this or change it around as you prefer.
Your email should address the correct issue with each level of Government. We are upset with Federal MP's for allowing him into the country and upset with Provincial MPP's for sponsoring the event.
See letter for MPPs here and letter for Federal MP here.
Step Four:
Email two parliamentary committee's
Justice and Human Rights
FastE@parl.gc.ca, MenarSe@parl.gc.ca, MurphB@parl.gc.ca,
comarJ@parl.gc.ca, LemayM@parl.gc.ca, PetitD@parl.gc.ca,
JenniM@parl.gc.ca, MooreR@parl.gc.ca, Rathgeber.B@parl.gc.ca,
LeblaD@parl.gc.ca,NorloR@parl.gc.ca, Woodworth.S@parl.gc.ca
Citizen and Immigration
TilsoD@parl.gc.ca, BevilM@parl.gc.ca, StcyrT@parl.gc.ca,
Calandra.P@parl.gc.ca, DykstR@parl.gc.ca, ThilaE@parl.gc.ca,
Chowo@parl.gc.ca, GrewaN@parl.gc.ca, Wong.A@parl.gc.ca,
CoderD@parl.gc.ca,KarygJ@parl.gc.ca, Young.T@parl.gc.ca
Use the same letter that you send to your Federal MP. All the contact information for committee members is in the excel sheet under the Green and Yellow Tab. Alternatively, to make life easier – copy paste the emails from the above table.
Step Five:
This step will involve emailing journalist, news reporters and other mainstream media outlets. We are still in the process of gathering media emails and writing sample letters. I encourage you to complete these steps and I will send you the next steps latter in the week.
Please forward this to people in your immediate circle who YOU can guarantee will help with this sewa
Conclusion:
Some of our grandparents, parents, friends and relatives experienced the pain of 1984 first-hand and came to Canada to provide a better life for the generation of Sikhs to come like you and I.  As young Canadian Sikhs, we have the world of opportunity in our hands.  We are all intelligent, educated and powerful young Sikh community and this is the absolute lease we can do for our panth and for the respect of our history.  Fighting against injustice and human rights violations and standing up for what is right and the core fundamentals upon which Sikhism was established.  From Guru Nanak Dev Ji who spread the message of peace and brotherhood, to Guru Gobind Singh Ji, who sacrificed himself for the rights of other – Sikhism is deeply and heavily rooted with the ideals of doing what is right and just.
We encourage all of everyone to stand up, be heard and make a difference. This is chance is yours, this choice is yours.