Since the Sikh community first learned about Navraj (Nuvraj) Singh Bassi, many on the internet have rushed to create facebook groups, orkut groups, and other fan displays.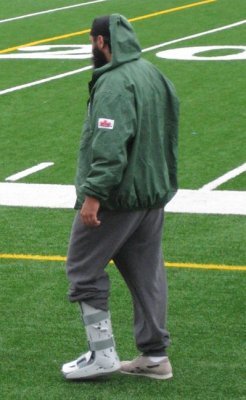 I think the CFL in general, but the SASKATCHEWAN ROUGHRIDERS, in particular, will see a new group of excited fans.
Many have wondered about Nuvraj Singh Bassi's status and luckily here in The Langar Hall, we have made friends with some great Roughrider fans, including Behaving Bradley, photographer Downtown Aaron Brown, Giventofly (GTF), and others on the Roughrider Fan Forums.
So from what I gather, Navraj is still a 'raw' player, but many are excited about the player he may become. He seems to have suffered a foot injury, but is still in attendance at training camp. We hope him a speedy recovery and the Roughriders a great season! We'll try to keep you updated with the help of Behaving Bradley and others from the forum!
——————————————
A long time ago, my fellow Langa(w)r-iter, posed the question:
Can a kesdari Sikh man excel at high levels of athletic competition in the U.S. and practice his faith? [link]
Back then she was introducing us to Darsh Singh, Trinity University's keshadhari (turbaned) Sikh starter and co-captain.
Today, I introduce you to Navraj Singh Bassi.
Nuvraj Singh Bassi will soon make history as the first keshadhari (turbaned) SIkh in the Canadian Football League (CFL), when he makes his June CFL debut as a member of the Grey Cup Champion Saskatchewan Rough Riders.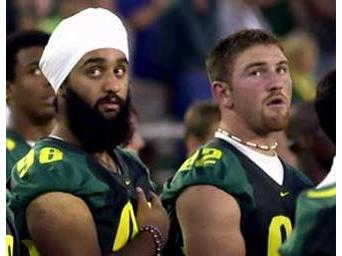 Nuvraj, a Vancouver native, attended college at the University of Oregon. Despite receiving more than 40 offers for football scholarships, the North Delta Secondary school player chose to stay in the northwest to remain close to his family. He played a few seasons with the Oregon Ducks. My Pac-10 allegiances aside, he is a great player and a great guy.
I had the chance to meet Navraj a few years ago and I must say that boy can eat!. He is a vegetarian and from what I remember he smashed three large cheese pizzas by himself!! I asked how he got so big and he told me instead of milk, he used to drink half and half.
The six foot six (6'6″) 294 pounder is going to need the size as the Rough Rides Riders (thanks Behaving Bradley!) intend to play him ironman, on both offense and defense, as a member of the D-line and as a blocking tight-end.
Navraj comes from a sports family and they are very enthusiastic about their son's prospects: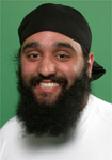 "We are very excited that he will be given an opportunity to showcase his talents and by the grace of God he will excel in the sport that he has loved since he was a child," Kulwinder Bassi said of his younger son.

"The Saskatchewan coaches are really impressed with his abilities and Navraj is really enjoying the team atmosphere there," said older brother Pavan, who recently won the Super Heavyweight boxing championship at the Cloverdale arena and will be defending the title at upcoming summer events. [link]
The Saskatchewan Roughriders fan boards are already buzzing about the Singh
Navraj Bassi- When he was hitting the pads, it made a different sound than the other guys. He's as big as advertised.

Did he shave?

Nope. The beard was flowing!!! I don't know how his chinstrap stays on

Hope [he didn't shave], that hair could make a tackle itself.

We can call him Sikh and Destroy Bassi (LOL! I think we have a nickname)[link]
While those of us here in America are still waiting for our first Sikh in the NFL, in the meantime, all of us will be rooting for Navraj!
QUICK UPDATE:
Navraj (also sometimes spelled Nuvraj ) seems to have suffered a foot injury during camp. The Riders blog states that he was let go. However, the discussion boards claim he was still at practice and had been 'released' due to his injury, but the hope was that he would return before the end of camp.
Hopefully a Canadian Football fan can keep us updated!