Representing the world of weightlifting, 5'3" Jasveer Singh (sometimes written Jasvir Singh), who came from Punjab in 2002, has become a Canadian and Sikh sensation (many communities have even held akhand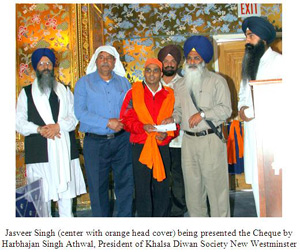 paaths to raise money for him). He is the first British Columbian weightlifter to go to the Olympics in twenty years. Jasveer (Jasvir) Singh has been sponsored by many Sikh groups including the Khalsa Diwan Society New Westminster in hopes of bringing Olympic glory to Canada. On the right you can see Jasveer Singh being honored and given a check by members of the Westminster Sangat.
Jasveer Singh will be competing in the Men's 62kg category. According to the official Beijing 2008 Olympics schedule, the event and the medaling ceremony will all be on Day 3 of the Olympics (Monday August 11, 2008).