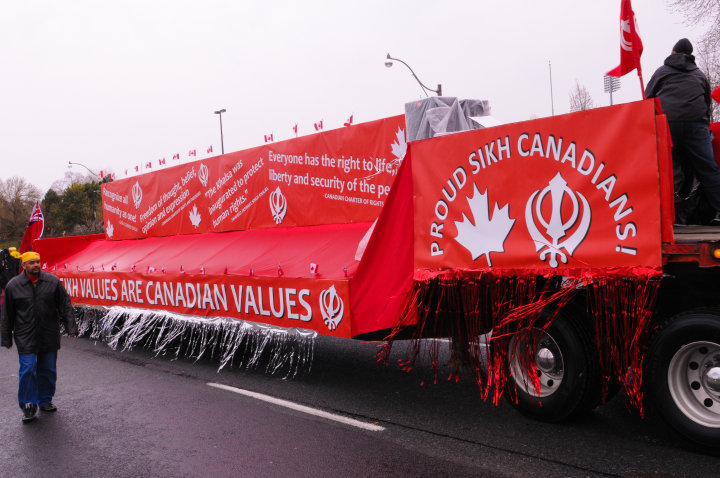 And I was worried that no one was going to read my post J.
Over the past week, I've read through all the comments in detail and have had many conversations with people in person. The dialogue has been supportive as well as critical, eye opening, challenging but most importantly always respectful. Its reaffirmed my belief that we Sikhs can openly articulate our differences in a productive way. Here's some additional perspectives that I'll put out there for debate:
Liberals
Of course, Michael Ignatieff's failure to connect with Canadians was a major reason for the collapse of the Liberals. But there are much deeper, systemic issues with the party and for the party to survive, it needs a transformation from top to bottom. This will require a redefinition of what it means to be a Liberal in today's Canada. This also includes reaching out to all those stakeholders to whom they had grown complacent, Sikh-Canadians included.
The Liberal party has done great things for our community over the years, a lot of which falls on deaf ears because it is ancient history to the under-30 generation. These youth only remember sponsorship scandals, Chretien vs Martin and Ignatieff's reluctance to support the 1984 petition. Having said that, the party and its Sikh representatives need to produce much better answers for the questions of "what have you done for us lately?" and "what are you going to do for us going forward?"
Conservatives
I am an optimist and hopeful that the Conservatives will choose to represent not just those who voted for them, but all Canadians. The next four years will prove whether their hidden agenda is a reality or a bogey man conjured up by the opposition.
However, I personally lived through the anti-Sikh hatemongering stirred up by the Reform party during the RCMP campaign of the late-eighties and early-nineties. I vividly remember the petitions, NO TURBAN lapel pins and racist calendars proudly promoted by members and leaders of the party, many of whom are still in the Conservative party.  Having said that, all parties can and do change with time. If the Conservatives are sincere in their outreach to the Sikh-Canadian community, their actions, and particularly those of Sikh Conservative MPs like Tim Uppal, Bal Gosal, Nina Grewal and Parm Gill will speak for themselves.  Parm Gill's attendance at the Kamal Nath protests was a good sign.
NDP
Jack Layton and his team now provide the only significant counterweight to the Conservatives. Jack has been a strong friend of the Sikh community. He's been an outspoken advocate against human rights abuses in India, introduced a motion on the kakkars, and promised a real Komagata Maru apology. However, the NDP has a whole host of new responsibilities and issues to deal with over the next four years. Within that agenda, I'm hopeful that Sikh-Canadian issues continue to find a voice. I'm also interested in learning more about the views of Jinny Sims who defeated Sukh Dhaliwal in BC.
MP Accountability
MPs need to be held accountable for their (in)decisions. From the comments, it is has been articulated loud and clear that the quality of Sikh politicians is important, not just the quantity.  The Sikh politicians banished from Parliament covered the spectrum from being openly supporting Sikh causes to actively undermining the community.  I shed no tears for the losses of Ruby Dhalla and Ujjal Dosanjh. They have been an embarrassment to the community and have seriously damaged our credibility on the national and international stage. And yes, individuals like Malhi should have figured out that they were past their prime and gracefully retired.  However, I believe that we now have fewer pro-Sikh MPs in the House and so it will be significantly harder to find traction on issues like the genocide petition and Komagata Maru apology in this parliamentary session. This will necessitate stronger outreach to non-Sikh MPs.
Furthermore, we should hold Sikh elected officials to a high bar on Sikh issues. However, it should not be so high that we have no one left to elect. 1984 is not the only test of panthic virtue. Politics is the art of the possible and it must take into account, unintended but likely consequences. As our community matures so must our outlook and timelines. We need to be thinking out 10 to 20 years, not just the next election cycle. And yes, there's more to being a Sikh MP than doing Akhand Paths and ribbon-cuttings.
What are Sikh Issues?
Immigration and the 1984 genocide are both very important issues for the community. In particular on 1984, Sikhs in Canada have taken the lead on raising awareness and fighting for justice. However, they are not the ONLY ones that we need to deal with. Youth violence, new Canadian settlement, elder care and the defence of our articles of faith all warrant similar efforts. These issues were addressed by some candidates, including Jagmeet Singh, but the discussions need to be elevated to greater importance.
Even more importantly, we Sikhs are at our finest and most Guru-blessed when we put the rights of others far ahead of our own. Unfortunately, we seem to have lost our collective voices on issues of global concern. Where is the outrage against anti-democratic crackdowns in the Middle East and the paralyzing impact of increasing food prices on the world's poorest? Why aren't we punishing politicians for their refusal to deal with climate change? If we want to fight inequality and marginalization, we should start with supporting Canada's First Nations peoples. Canadian issues are Sikh issues too, and we must engage all MPs in addressing them.
Panthic vs Party Loyalties
We have the ability to advocate Sikh issues with a level of freedom that is unmatched in the world. Unless Sikh-Canadians form their own political party (which I'm not in favour of), we must work within the existing party system. We are not a monolithic community. There is nothing wrong with individuals having affiliations with specific political parties of their choosing. We all have differences in how we want to move Canada forward. However, we do need to ensure we have the flexibility to come together on common causes. The institution of the Sarbat Khalsa from the 1700s provides us with a model of how this can be done.  More modern examples are the political caucuses in the US.  What if we had a Sikh-Canadian caucus made up of all Sikh MPs across all parties like the National Black Caucus of State Legislators or DC Latino Caucus in Washington? What could we collectively accomplish?
There is also a bigger question for anyone engaged in Canadian politics to ponder. As Sikh-Canadians we've given our blood, sweat and tears to the political establishment. How do we stop working for politicians and start to get them working for us? What can we be doing individually and collectively to change the equation?
The Future
In conclusion, I hope the future of the Sikh-Canadian politics more closely resembles Jagmeet Singh's campaign (on whom my first post came down, regrettably, much harsher than intended) than those of other candidates and previous elections. I hope to see campaigns where the candidates bring real credentials and skills to the table. Where youth are actively solicited and the entire community is engaged.  Where real substantive issues of importance to Sikh-Canadians and all Canadians are raised and thoroughly debated. And unlike in the 2011 elections, hopefully, where the most capable and competent get elected to represent us in government.