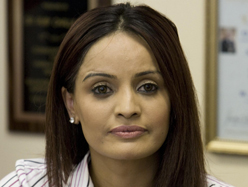 For those that follow The Langar Hall, Ruby Dhalla is no stranger to our coverage on Canadian politics.  Whether it be on our list of Sikh MPs throughout the world, a Sikh Barack Obama, a horrible beating that is symptomatic of the nightmare that is the Punjab Police, or even attendance at NRI Punjabi conference, she has found mention.
In this post, she becomes the focus.  Since last week after the Star published a story, Ruby Dhalla, the Liberal Member of Parliament, representing Brampton-Springdale, has been on the receiving end of a flood of media criticism for the following allegations
[Immigrant home care-givers] claimed that they earned $250 a week working 12- to 16-hour days at the Dhalla family home, that Dhalla herself had seized their passports and that other family members made them wash cars, shovel snow and clean chiropractic clinics owned by the family. [link]
The Canadian press has had a field day and has likened the case to the controversy that led to Eliot Spitzer's resignation as the governor of New York due to his relationship with a prostitute after being seen as a 'moralizer.'  Ruby Dhalla has been known to champion immigrant rights issues and women and thus it is for this reason that the allegations have been such damning.
In order to keep the controversy from entangling her party, Dhalla has quit her caucus position as Liberal critic for youth and multiculturalism.
Dhalla has requested the ethics commission to hold an inquiry that she believes will acquit her from all allegations.  Critics of the media's treatment have opposed the "lynch first, investigate later" attitude in the media, but in today's era of 24 hour news-channels requiring 'instant' news and often sensationalism to draw a crowd, even when there really isn't anything to say, I do not foresee any change in this anytime soon.
So this is how the situation appears to a Sikh-American's eyes, filtered by the Canadian press.  Perhaps much more interesting would be perspectives by Sikh-Canadians, especially those in Brampton that could comment on the case, but more particularly about Ruby Dhalla as their representative.