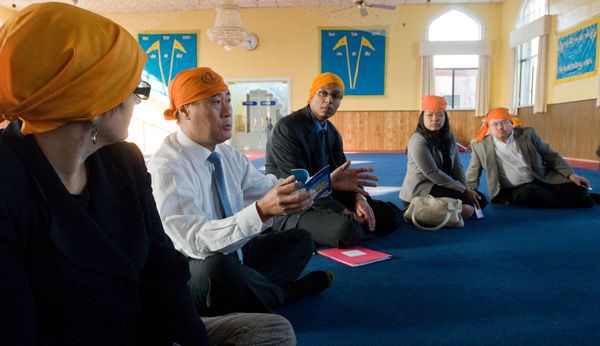 At Stockton's Sikh Temple on Friday morning, State Sen. Leland Yee, a San Francisco Democrat, asked whether members of the faith identify themselves more as Indians or as Sikhs.
That's a controversial point, to be honest," temple representative Sarabjit Singh said.[link]
The question often arises in various discussions. In fact in a recent conversation about the sometimes-called Sikh (pagh salute: GK) Inaugural Ball in DC this week, one commenter lamented:
One thing that I noticed about the Sikhs, is that they always seem to feel underrepresented. By the amount of their rhetoric, a Westerner would probably think that 33% of India is compromised of Sikhs, when in fact, the figure is more like 2%. Also, Sikhs tend to not view themselves as Indians, and apparently, they don't view themselves as being "desi". Even this Sikh Inaugural Ball has the headline "Sikhs and Desis Celebrate Obama." Wait a minute…so Sikhs are exclusive to Desis now?[link]
The State Senator's question to the Sikh community came at a time when he was attempting to discover an 'Asian Civil Rights Agenda' for Asians in California. 'Asian Indians' (read mainly Sikhs) make up 14% of the 'Asian' population in Yee's San Joaquin County (includes Stockton, Tracy, Lodi, Manteca, etc.). Also as an aside, the article was reported in the Stockton Record that features a keshadhari Sikh, Jagdip Dhillon, as a sportswriter.
For me, my personal experiences, I have always had a much closer affiliation with a Sikh identity. This may be for a number of different reasons, probably tied to the fact of growing up in the diaspora during the height of the Khalistan movement in a largely Sikh-community. Despite Sarabjit Singh's trepidations, the assertion of this identity has been less controversial in recent times.
While I feel males (keshadhari or not) are much more quick to assert an exclusive Sikh identity, I have seen this impulse not as strong amongst some women.  Is there a politics behind this as well?   What is your perspective?