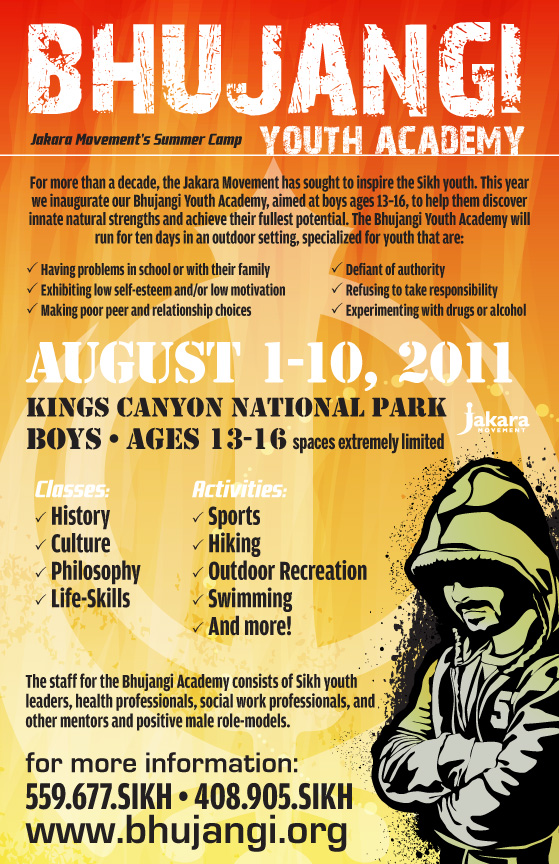 Do you know a young boy, ages 13-16 that may have:
problems in school or with family
exhibiting low self-esteem or low motivation
making poor peer and relationship choices
defiant of authority
refusing to take responsibility
experimenting with drugs and alcohol
Maybe some of this describes your nephew, maybe a cousin, maybe a brother, maybe even a son.
There is a unique opportunity for them.  It is a first in our community.
We have long heard about the problems of Punjabi masculinity, anger problems, substance abuse that are facts in our community.  The cases in Surrey are the most well-known and documented.
We need community solutions.   Here is one.  The Jakara Movement is attempting to reach out to young boys, before these problems become truly manifest.  For the first time, they are conducting the Bhujangi Youth Academy from August 1-10, 2011 in the Kings Canyon National Park, California.
The camp will consist of classes, outdoor adventures, fitness, and fun in a Gurmat environment.
The website is still being developed, but they are looking for both PARTICIPANTS and VOLUNTEERS for this unique experience.
There are LIMITED spots open for participants.  Look at the details and APPLY NOW! (before 6/24/2011)
If you seek to be a member of the staff – maybe you have reclaimed your life, maybe you enjoy working with the youth, maybe you have a passion for the cause.  Then APPLY NOW! (before 6/22/2011).
Please help circulate this widely – send it to listserves, post on your FB, tweet it for us.  Help us get out the word!