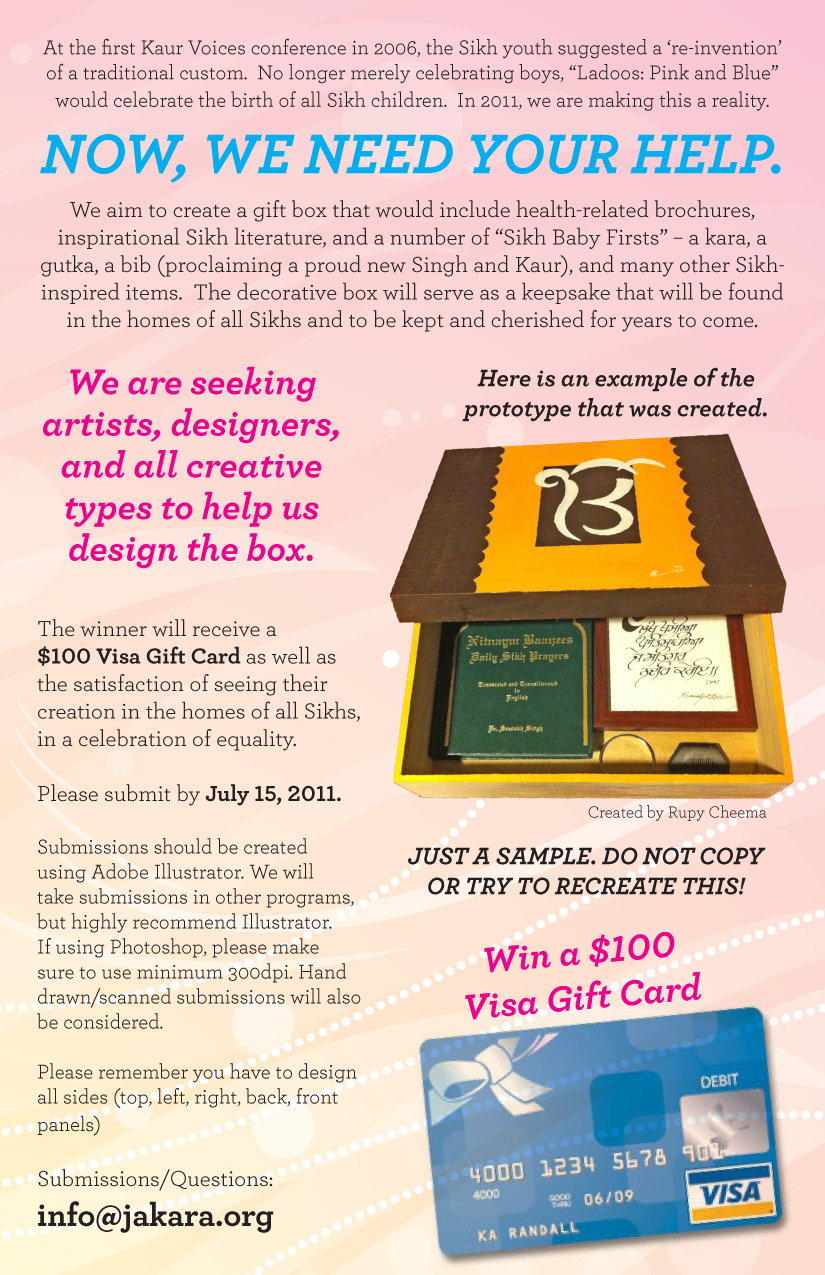 Crowdsourcing has its uses. Here is one.
This year the Jakara Movement is celebrating its 12th annual Lalkaar Conference with the theme Kaur Voices: Exalt, Express, Empower.  Hosted in Sacramento this week, June 16-19, 2011 – I am sure the conference will be a success.
The email I received announcing this contest, reminded me about when I attended this conference on the same theme 5 years ago.  Back then, we brainstormed about the need to create creative 'community-solutions' to problems in our community, like sex-selective abortion.  The idea for Ladoos: Pink and Blue was born.  Now 5 years later, they are making it a reality.
The guidelines to the competition are easy:
We aim to create a gift box that would include health-related brochures, inspirational Sikh literature, and a number of "Sikh Baby Firsts" – a kara, a gutka, a bib (proclaiming a proud new Singh and Kaur), and many other Sikh-inspired items.  The decorative box will serve as a keepsake that will be found in the homes of all Sikhs and to be kept and cherished for years to come.

The winner will receive a $100 Visa Gift Card as well as the satisfaction of seeing their creation in the homes of all Sikhs, in a celebration of equality.

Please submit by July 15, 2011.

Submissions should be created using Adobe Illustrator. We will take submissions in other programs, but highly recommend Illustrator.  If using Photoshop, please make sure to use minimum 300dpi. Hand drawn/scanned submissions will also be considered.

Please remember you have to design all sides (top, left, right, back, front panels)
As I can't draw, if my life depended on it, I look forward to seeing all of your submissions and to the future of this project.  I will keep you posted!